Smashwords -- a great side to get electronic books in many different formats (one or more will work for you) is running a promotion during the week of March 4-10, 2012.
I'm offering one of my books for free, and I hope you take advantage of this great price of
No dollars and no cents
.
Just for Fun: A Little Sexton, and Some Other Stuff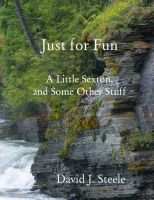 By
David J. Steele
Published: Nov. 06, 2010
Words: 56334 (approximate)
Language:
English
This is vintage stuff: some short stories I wrote in college (a couple won awards from the college literary magazine), my personal journal from the 9 weeks I spent in Peru in 1987, and a partial never-to-be-completed Sexton manuscript for die hard fans.